Performance anxiety at work is not a new issue, but it is one that is on the rise due to the shift in work expectations. When not addressed, it can lead to toxicity in the workplace, emotional wellness issues such as anxiety attacks, and even resignation.
To keep your top talent, it is imperative that you, as their leader, provide the necessary tools for and model healthy anxiety management.
Business as usual in 2021
"Business as usual" is no longer a term that can be used. Change has occurred on such a large scale that businesses and the employees that work for them (in person or hybrid) have the potential to succumb to the strain. Contracts have been canceled, expectations are shifted, and while many employers have risen to the challenge to pivot for the customer, they've forgotten about the emotional strains placed on not only themselves but also their employees.
Consumers have lost trust in the brands they frequent and are taking it out on employees who maintain the company's front lines. They are not shy about demanding more regardless of whether or not those demands are even possible.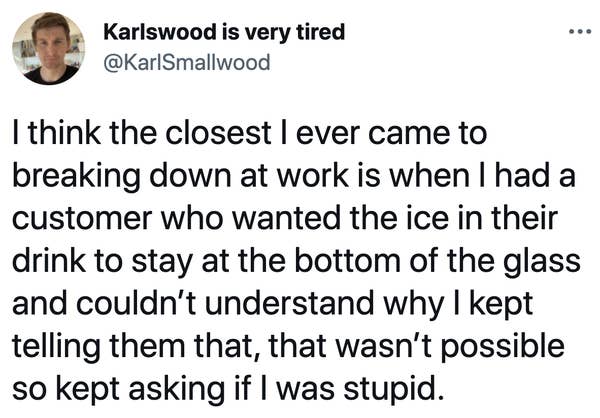 Whether in person or virtual, the consumer expects to be placated and wowed. This can lead to a significant increase in anxiety at work.
What is performance anxiety?
Performance anxiety and stage fright go hand in hand. However, employees who you may have turned to for their excellence in presenting to large crowds may now be experiencing it with the shift to virtual meetings and conferences.
Employees carry a heavy burden. According to Hubspot, 55% of consumers do not trust the companies they buy from and "are more impatient, more demanding, and more independent." Unfortunately, those demands are being placed directly on the everyday worker who stands in the front lines between your company's success and failure.
Is there any wonder that they are experiencing performance anxiety at record numbers?
Performance anxiety has increased with online meetings
A survey conducted by Doodle found that 34% of employees put in more effort for virtual client meetings than in-person, 46% are dipping into their personal time to meet the higher demands created by virtual clients, and 55% are overcompensating for the lack of in-person contact.
Nearly a third of those interviewed by Doodle admitted that their new realities and performance anxiety at work have led them to engage less with the client.
Employees are feeling the pressure and it's leading to exhaustion, anxiety at work, burnout, and the Great Resignation.       
The answer doesn't lie in canceling virtual meetings or doing away with remote work. The truth is that the new "business as usual" includes these dynamics. There is simply no way around the benefits remote work and online conferencing have brought to the workplace.
How to break the cycle of performance anxiety
Online meetings on zoom jumped from 10 million to 300 million each day at the beginning of the pandemic, with Microsoft Teams now coming in at 75 million and Google Meet at 100 million daily active users (https://www.insider.com/why-you-stare-at-yourself-zoom-calls-psychologist-2020-4).
Productivity anxiety and stage fright play a large part in what has come to be known as zoom fatigue (regardless of the platform) for both students and workers. But you can break this toxic cycle.
Here are some of the tips leaders (as well as parents and teachers) can take to improve anxiety management within the workplace and within their own homes:
Shorten meeting times and move some to actual phone calls. Not having to perform constantly for the camera will quickly improve self-esteem. The complaint "why wasn't this meeting an email" still applies even with all the changes your company has experienced.
Encourage employees to spend as much time off the computer as on. Implement the 20-20-20 rule to combat exhaustion and eye strain, and then model it in your own workday.
Lead mock presentations. Invite employees who are nervous about their productivity or have admitted to stage fright to run through their presentations with you or a co-worker they trust. 
Encourage recording online presentations. One way that performance anxiety in sports is addressed is by rewatching games and analyzing what was good and what could be improved. Offer to sit with employees and give them constructive KIND feedback regarding their presentations.
Turn off the self-view! Anxiety increases, and it is difficult to focus on your work when you can't take your eyes off how you look to others. The advice our parents gave us in middle school regarding our imaginary audience applies here – chances are high they are so busy looking at themselves and their own insecurities they haven't noticed yours.
Prioritize Emotional wellness in the workplace and model what that looks lie
Why the Great Resignation is a GOOD shift leaders need to pay attention to
Employees are leaving the workforce in record numbers because 2020 showcased important aspects of their lives that they want to change. People are placing a higher value on their Emotional wellness, happiness, and work-life balance. They want to work for companies that value people above profit and align with their morals.
Employees don't want to leave their jobs, and they want their careers to value them and empower them to live meaningful well-balanced lives.
The truth is your employees do deserve the best – including an employer who cares about their emotional wellbeing.
An integrated approach to emotional wellness rooted in evidence-based science is key to combatting performance anxiety at work, prioritizing employee wellbeing, and reducing burnout and turnover. Don't let your top talent leave you a victim to today's Great Resignation. Instead, put a plan in place today to help retain and mentor them to greater success.
At Empwr.life we are passionate about changing lives and creating systems that focus on early intervention and/or prevention. Are you ready to put the power of personalized, high-tech, integrated emotional wellness into the hands of those you lead? Request a demo today